If you are interested in any of these animals, please email us at info@pawsofhc.org or fill out adoption application on our website www.pawsofhc.org
SIMON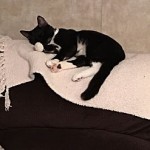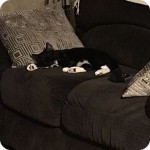 Simon is a 1-year old cat who is very affectionate and loves to be the center of attention. He likes to sit in the window and enjoy the sun, but does not like to be confined to one room. This feline loves to play with toys and is very talkative too!  He does not mind being around other cats and would love to have a friend to play with but prefers not to be around dogs. Simon would also love sleeping in the bed beside you. He is neutered, tested, vaccinated and micro-chipped.
BENNY-Hemingway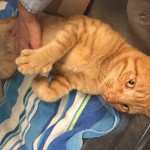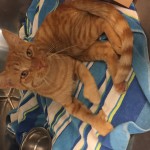 Benny is a one and half year old, beautiful orange tabby cat. He is super sweet, friendly and polydactal ( he has extra toes!) This young kitty who is up to date on vaccines, neutered, and has a clean bill of health! Once you see his extra toes on his paw, you will be in love! Please help find him a loving forever home.
MADDIE & ROSE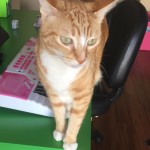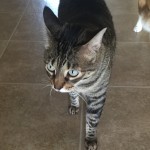 Sisters Maddie and Rose are 6-year-old female cats. They like climbing on cat towers and tall shelves, and love being around children and get along with other cats. These two felines are not declawed, but they are up-to-date on their shots and spayed. They have not had much exposure to being around dogs. Maddie and Rose are a bonded pair and must be adopted together.  Help us find a forever home where these sisters can live together!
SPIRIT is a silky sweet black 2 yr. old with a gentle nature  She loves to play with her toys and her Brother Nicholas.  She would love to have a companion person to love!!   She prefers a woman or gentle man and a quiet home. Just need someone to love.  All adoption fees are $45.00.  Spayed/neutered, vaccinated,  and microchipped
NICHOLAS Nicholas is a grey and white 2-3 yr.old male with a got milk mustache, 4 white paws loves to play and run and is very comical and energetic.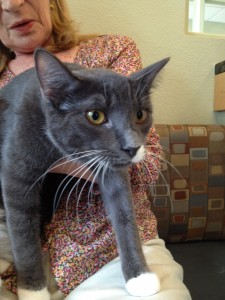 They were born in the woods and he protected his sister. Both have been around cats and dogs but prefer to be the center of attention.   They prefer women or a gentle man.  and quiet home.   Too many cats in their foster home and prefer one of their own. They both are spayed/neutered, microchipped and current on vaccines. Adoption fees $45.00