BUGSY
Meet Bugsy, also known as love bug! This cutie is 4 months old, and was rescued with his brother Mickey & sister Callie. He's currently up to date on his shots & has been neutered.  He loves attention & food and loves to cuddle when he's finished wrestling with his brother & sister. His current interests are climbing cat trees and playing with cat toys!  He is in need of a loving forever home. He can be adopted with his brother & sister or by himself.
MICKEY
Mickey is also 4 months old, up to date on shots and neutered. He was also rescued with his brother Bugsy and sister Callie. Mickey is quiet but very loving. He loves to get attention and cuddle and is playful and curious. This sweet boy can be adopted individually or a pair or with brother & sister.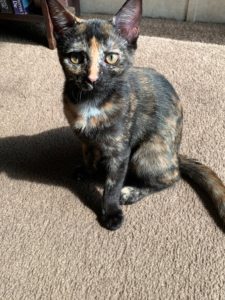 CALLIE
This sweet girl is Callie, and is the sister to Mickey and Bugsy. She is also 4 months old, up to date on shots and spayed.  She is sweet and sassy and loves to wrestle with her brothers & holds her own very well. She loves to play with ribbons, balls with bells & catnip filled toys.  She can be adopted separately or with her brothers.